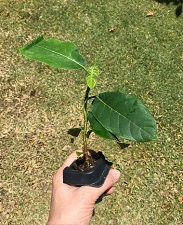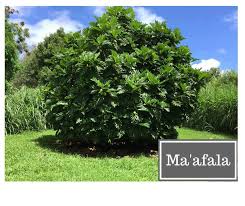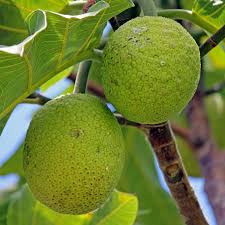 We have young certified disease free Ma'afala breadfruit keikis growing in our nursery! Ma'afala produces in about 3 years, and will fruit maybe 5-6 months of the year. Tree can grow to 40 feet. Season is generally July – December, some off-season sometimes fruiting January-May.
Ma'afala is a Samoan or Tongan variety, likely the second most common breadfruit variety in Hawai'i. The fruit is generally smaller and less dense than its Hawaiian cousin, resulting in a lighter option that's ideal for mashes, patties, and blended dishes. It has a soft, tender texture when cooked and is delicious in all types of breadfruit recipes. It also contains good levels of protein and other important nutrients. Learn more here...
NTBG Breadfruit Factsheet | Hawaii Dept of Agric. Factsheet
We always get the question, What's the best way to prepare breadfruit for a meal? Check out Sam Choy's educational video below....
Breadfruit—Best Practices for Harvest and Postharvest
Guide for planting an 'Ulu tree